The Great Dorset Steam Fair - travel with us
3 weeks ago Tue 19th Jul 2022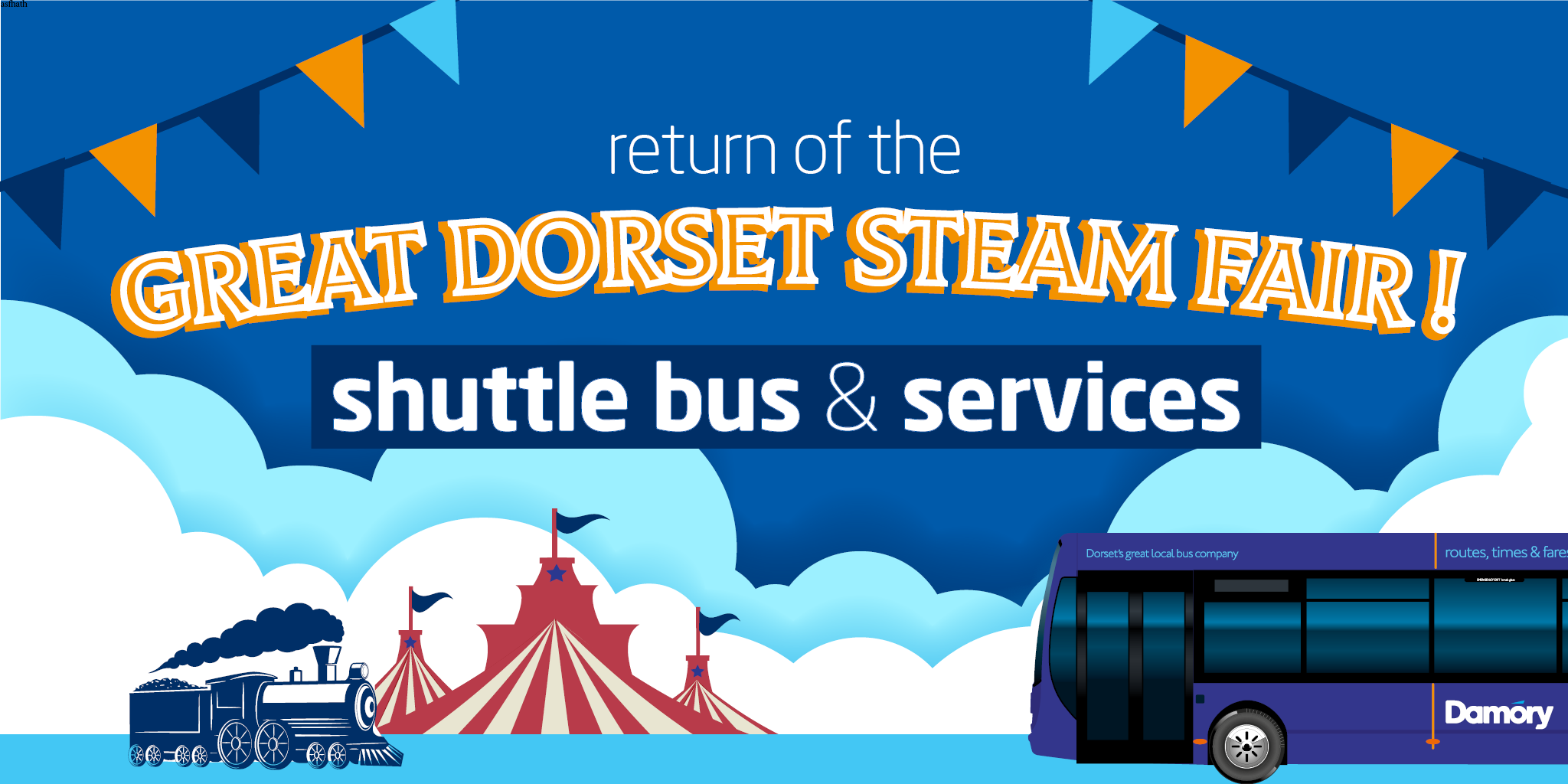 Between Thursday the 25th and Monday the 29th August, the Great Dorset Steam Fair will return to Tarrant Hinton for the first time since 2019. Our sister company, Damory, will be providing services to the event.
Below is a summary of travel options and how these will affect regular journeys. A timetable of all Great Dorset Steam Fair services is provided for your information.
As in previous years, we will run a shuttle service numbered SF1 from The Ham car park in Blandford town centre (near Morrisons supermarket) additionally picking up by The Crown Hotel to the Steam Fair site from around 8am, at half hourly intervals during the day with an hourly service in the evening on the Thursday and Friday with the last journey from the site back at 0015.
New for this year, on the Saturday and Sunday the evening service will be increased to run half hourly throughout the day and evening with an extra late departure from the site at 0100 on these days as well!
On the Bank Holiday Monday, the shuttle will only run hourly from 0840 and will finish around 7pm.
Also new for this year, on Wednesday the 24th, the SF1 will additionally run for campers and staff from the Steam Fair site into the town on an hourly frequency from quarter to two until quarter to eight, with the last return journey from Blandford back to the site at eight thirty.
| | |
| --- | --- |
| Shuttle service fares | |
| Adult single | £2.50 |
| Child single | £2.00 |
Also, this year the X20 service between Salisbury and the Steam Fair site will return, augmenting the normal 20 on Thursday and Friday and on its own Saturday, Sunday and bank holiday Monday. The timetable is broadly similar to previous years but new for this year are late journeys at 2115 and 0015 from the site to Salisbury on the Friday, Saturday and Sunday nights.
Please note, the standard 20 timetable will run as normal on Monday to Wednesday, but on the Thursday and Friday, the 20 journeys will run at different times so care should be taken if you wish to travel on these days. Please also note that on Thursday and Friday only, the normal connections between the 20 and X12 to Weymouth in Blandford will NOT be maintained.